Large Reactors, Inductors and Interphases
Added Benefits of Neeltran Reactors, Inductors and Interphases – Robust and Reliable Power to run your 24/7 processes.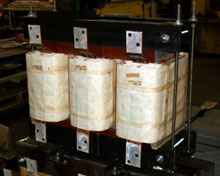 Throughout our designs we utilize special magnetics of all types. This allows our designers to attain the experience necessary to design a high quality custom unit.
Neeltran possesses multi-industry, engineering, and manufacturing experience that helps us to be flexible and design products that meet your specific technical and safety requirements.
Product Range: Air, Water or Oil cooled. AC or DC Air Core or Iron Core, Interphase transformers, Saturable Core reactors, Tuning Reactors. Negative Return Reactor for Traction Power Systems.
220 or 180 deg C UL recognized insulation systems available
Latest safety features
Design to all types of environments
UL and other certifications available
Based on specifications, we can conform to ANSI, IEC, IEEE,NEMA, CSA, BS, AS, JS, UL, CE etc…
Design to seismic zone and altitude
Conservative design
High efficiency units with low operating temperatures
Design to local environment and altitude (all cooling types available)
Dry, oil and water cooled available
Complete ANSI and/or IEC testing available